Blogpost
Examining AB 602, Impact Fees, and the Future of Development in California
2.3 minute read
November 24, 2021
The State of California is currently in the grips of a steadily worsening affordable housing crisis. The median house price in California is now more than $800,000. For the price of one average California home, you can buy two in Phoenix, Arizona1. And the situation for renters is just as untenable. Even before the pandemic, more than half of California renters spent more than a third of their income on rent. The pandemic only served to deepen the problem as housing prices jumped by over 17 percent between March 2020 and 2021.
California is widely viewed as one of the most challenging places in the United States to build housing, resulting in a severe supply-and-demand imbalance. A wide range of state and local regulations add considerably to the expense and to the process of creating new housing.
Soon after winning a recall election in September 2021, Governor Gavin Newsom signed 31 housing-related bills designed to combat the housing crisis. Many of these bills sought to either remove or mitigate regulatory barriers, including the much-discussed AB 602.
Understanding the purpose and impact of AB 602
As is true in most states, local municipalities in California often levy impact fees as a condition for permitting new developments. The reasoning makes good sense: These fees cover new infrastructure and public service upgrades needed to serve these new developments. Impact fee programs that are well managed provide needed relief to both municipalities and developers. However, many municipalities have failed to update their fees regularly to keep in line with costs and regulatory changes or have fees that have spiraled over time and are approaching unaffordable.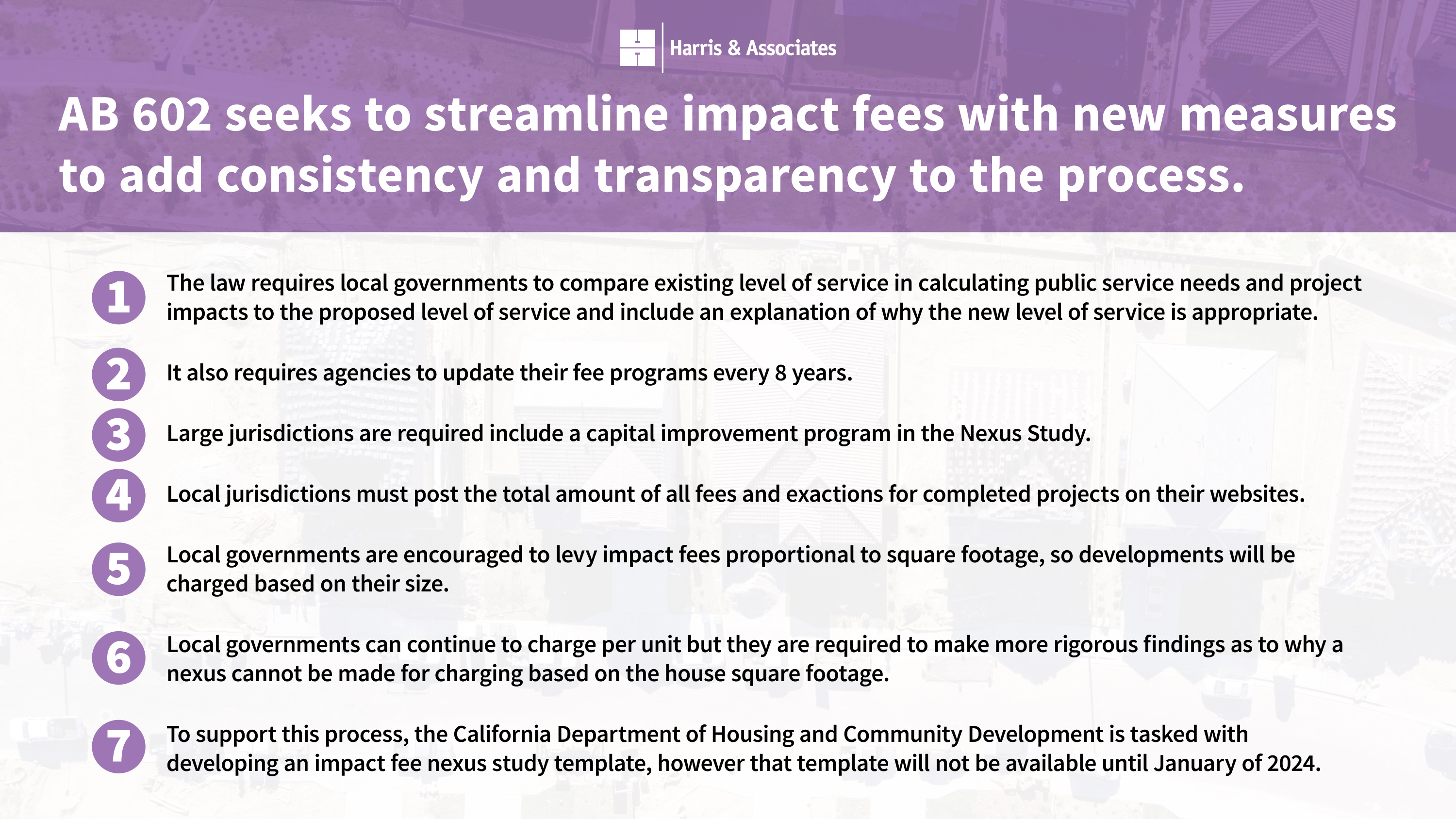 The possibilities—of AB 602
There will be questions and issues to be decided as implementing AB 602 unfolds. But with the housing shortage growing, prices skyrocketing, and families leaving California in droves, AB 602 offers promising changes. By boosting standardization and transparency, over time the bill should help provide more transparency and regulation of impact fees and encourage agencies to regularly monitor and update their programs. Regularly updating fees provides a degree of stability and certainty to home builders.
If you have questions about how AB 602 impacts your organization, reach out to Harris & Associates. Our Municipal and District Finance team will help you understand the bill and its impacts.
1https://www.ppic.org/wp-content/uploads/californias-future-housing-january-2020.pdf