Blogpost
What are EIFDs, and Are They the Answer to Your Infrastructure and Economic Development Challenges?
1.4 minute read
June 29, 2015
Is your community's infrastructure deteriorating? Are you finding it difficult to find funding to pay for critical infrastructure projects? Having worked in the public sector for many years, I understand the realities of questions like these. Like many cities throughout California, your city probably has a laundry list of infrastructure projects that need to be completed, and the fact of the matter is that the list just keeps getting longer while financing for these projects keeps waning.
But it's not all doom and gloom, even with the recent changes to redevelopment agencies (i.e., you can't use them to finance projects anymore), there are new, innovative ways to finance infrastructure projects—enter, Enhanced Infrastructure Financing Districts (EIFDs). With the passing of SB 626 in September 2014, EIFDs are a new government entity signed into law by Governor Jerry Brown which allow for infrastructure to be funded by tax increment revenue.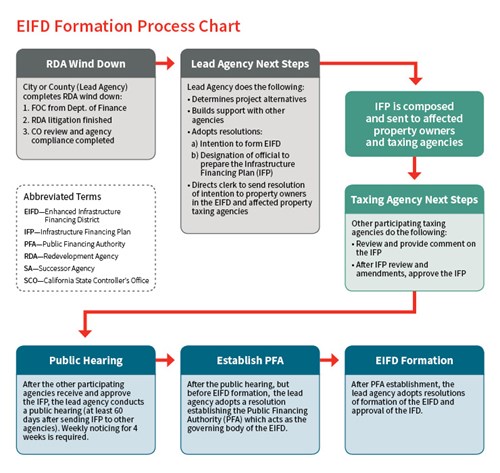 People are calling EIFDs "Redevelopment 2.0" because they offer a sustainable solution to help local governments answer one of their toughest questions: How do I pay for these infrastructure projects?
Learn more about EIFDs and how it can be used to help build thriving communities. Download our whitepaper: Are Enhanced Infrastructure Financing Districts (EIFDs) a Solution to Your Agency's Infrastructure and Economic Development Challenges?
Has your agency looked into EIFDs? Has your agency actually taken the steps to form an EIFD? Let me know what you think of this new financing tool and where you think the future of EIFDs are headed.
Markets
Services
Categories
Funding