Blogpost
It's Time for Architects and Construction Managers and Owners to Get Serious about Collaboration
4.1 minute read
August 24, 2015
"Finding good players is easy. Getting them to play as a team is another story." Sure, legendary manager Casey Stengel was talking about baseball, but his message resonates beyond sports. We see it all too often in the A/E/C world with talented architects and construction managers (CMs).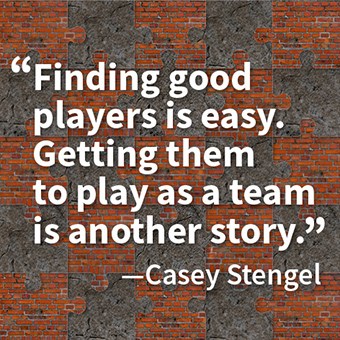 Driven by false insecurities and outdated premises, they unnecessarily stand on opposing sides and end up working against their common goal.
It's time for a new era of collaboration. For the good of their projects and their clients, architects and CMs need to—and can—come together as willing partners. Creating formalized relationships at the pre-construction phase, even the pre-design phase, will generate better results for all involved.
First, it may help to understand what these parties bring to the table, their motivations and how we got to this point.
The Ongoing Evolution of Architects
The rise of new, more complex yet, effective delivery methods—like design-build, CM-at-risk and integrated project delivery—have altered the architect's traditional role. Gone are the days when architects were the owner's exclusive project partners, designing every element down to the doorknobs.
As architects have had to forgo some control, design duties have expanded to multiple players (e.g. contractors and subs) on the project team. It's easy to understand why architects may need new allies to ensure that results meet expectations, from aesthetics to fiduciary responsibility.
There is also a strong sense of commoditization among architects, as there is for many A/E/C professionals. That makes communication and trust among allies all the more critical. Architects can get the same satisfaction from projects and highlight their unique skills as they did in the past, and with even less aggravation because others share the responsibility. It will take teamwork.
Setting the Record Straight About CMs
Construction management has also evolved considerably in recent years, though industry perception hasn't always kept pace. Some believe CM equals inspection services, or worse—a troublemaker intent on making lives more difficult. Others think the CM role was rendered irrelevant by delivery models like design-build, assuming a contractor-architect team is enough.
Truth is, research that looked at hundreds of projects has proven the value of a CM to a project's success. The modern construction manager operates as a leader and mediator—moving projects forward, coordinating all the pieces, controlling costs and schedules, and anticipating problems. CM roles have even expanded to include everything from feasibility studies to value engineering to dispute resolution.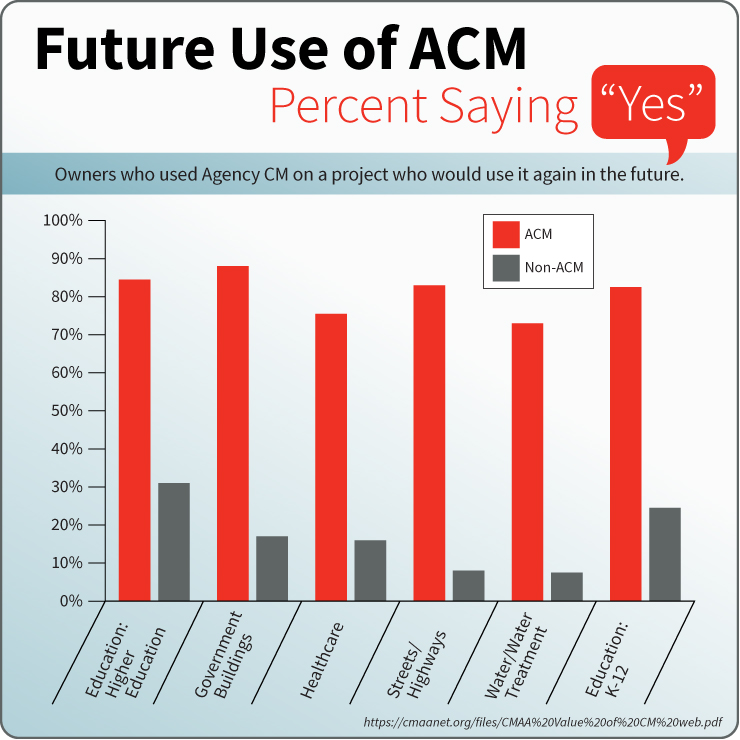 Benefits of Architect/CM Collaboration
The key to getting stellar project results in any scenario is architects and other project stakeholders interacting like never before, with a CM orchestrating the on-site team. When this happens, clients realize a variety of benefits, including:   
Speedier delivery
Less waste
More cost-effective delivery
Reduced potential for litigation
Better coordination between all parties on project teams 
After all, every owner asks two questions: "How much is it going to cost?" and "When will it be done?" CMs are perfectly positioned to relay budget information to architects, who can protect the integrity of their designs and stay within the budget parameters.
In California especially, projects evolve amid a rapidly changing regulatory environment. CMs have the familiarity to help architects and others understand new regulations and requirements.
Here's an added plus: Successful collaboration establishes a potentially profitable level of trust. Owners are likely to gain confidence that teams can work well together on their future projects.
Bringing Collaborators Together
Industry veteran Ann Banning-Wright, in a Construction Industry Podcast, observed how A/E/C firms focused more on project efficiency than innovation and collaboration. We couldn't agree more. The drive to efficiency has led to continued commoditization and fueled the adversarial relationships among project stakeholders, stagnating innovation.
We must shift now to formalizing collaboration among architects, construction managers, contractors and others on the team. We need a new playbook that all help to create and all can follow.
In San Diego, we are helping to put that playbook together by hosting events with construction managers and architects through AIA and CMAA local chapters. However, this must also continue on the national level and expand to other organizations, such as the Design Build Institute of America. 
True partnerships will lead to better projects and economic success. They are also our only hope for addressing the major infrastructure challenges facing our nation.
What are your thoughts on more formal partnerships between architects and construction managers? How do you think we should foster greater collaboration and innovation in the A/E/C community?
Our first event with the AIA San Diego Chapter partnering with other industry associations DBIA, CSI and SDA is a hard hat site tour of the Padre Dam Advanced Water Purification project on September 22. We hope to see you there.