Blogpost
Construction Management, Program Management and Project Management: What's the Difference?
3.2 minute read
December 02, 2015
Roles keep changing for different managers involved with construction projects. It's getting harder for owners to keep up with just who is responsible for what. New project delivery methods only add to the confusion.
I want to add some clarity by differentiating the duties of construction managers, program managers and project managers. Owners and other stakeholders should understand the benefits each one brings to the table.  
A powerful trio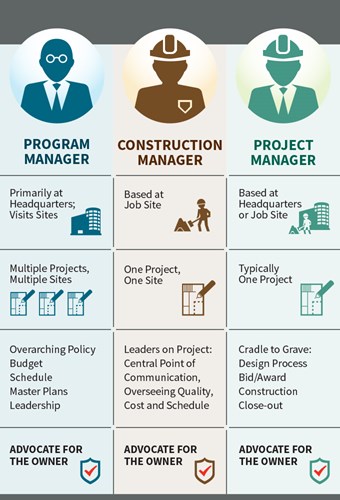 The program manager has the largest portfolio, encompassing multiple projects on multiple sites. One classic example is a K12 school district, where the program manager may be responsible for upwards of 10 elementary schools, five middle schools and two high schools.
Program managers are in charge of overarching policy, budget, schedule and master plans. If the owner is not an expert in facility design and construction (or simply doesn't have the time to address it), the program manager provides leadership in that area.
He or she coordinates with the stakeholders, including the client, the school board, user groups, the superintendent, and district officials. The same dynamic applies to larger municipal programs involving multiple projects—like airports, major transportation renovations; for example the I-405 (Carmageddon).
Continuing with the school district example, the program manager would bring a project manager aboard to manage work on one of the schools. This person would handle the single project from cradle to grave: pre-design, design process, bid/award, construction and close-out.
If we used a community services example, like a parking structure or a fire station, then a project manager may work without a program manager since there is only a single building. If a program manager was involved, that person might be on a team working to address additional infrastructure concerns.
Traditionally, construction managers have joined the process later than the other managers have, usually after bidding. But that has changed in recent years. We're now seeing construction managers getting involved earlier and adding significant value in the design stage. Sophisticated owners are asking specifically for construction managers to come to the table early—recognizing the long-term efficiencies.  
How they all fit together
The construction manager is based at the job site, dealing directly with the contractor and project and/or program managers. The program manager works primarily from a headquarters location and often goes out to sites, while the project manager could be based at either headquarters or the site.
Each manager has a distinct set of responsibilities, and the clearer each one is about his or her role on a project, the better the result for everyone.
That said, all managers on any project share certain traits. They are advocates for the owners, acting as extra sets of eyes and ears at every moment and helping to curb issues before they start. These managers must also remain flexible and ready to step into any role at any time.
Preventing potential pitfalls
Not all owners are familiar with our industry's nomenclature. They may use terms interchangeably in an RFP and ask for a project manager when they really want a construction manager, or vice versa.
In that situation, even an experienced proposal reader can misinterpret what a prospective client requires. Those of us who work with these terms every day should keep our radar up for possible confusion and ask questions early. 
Owners can prevent this confusion by defining tasks more precisely in the scope of work, being aware of such pitfalls. They can also hire an experienced consultant to prepare the RFP. This will enable apples-to-apples comparisons among responses, leading to faster decisions.
Do you have any thoughts about distinguishing and coordinating construction managers, program managers and project managers? I want to hear them. Join the discussion in the comments section below.
Authors
Services