Infographics
American Rescue Plan
What Cities & Counties Need to Know
---
*UPDATE*
The U.S. Department of the Treasury opened an online portal for cities and counties to complete their submission requirements.
"Non-entitlement" municipalities, or towns with less than 50,000 people, apply for funding through their state governments.
Utilities may apply for funds either through their city governments (if those cities are eligible for individual allotments) or through their state governments.
Funding can be used for costs incurred from March 3, 2021 – December 31, 2024.
---
The American Rescue Plan (ARP) Act of 2021 is a $1.9 trillion economic stimulus bill. Within the ARP, the State and Local Coronavirus Fiscal Recovery Fund provides $350 billion for states, municipalities, counties, tribes, and territories.
Download the infographic below to learn about how these funds are broken down and the funding opportunities available for your county or city.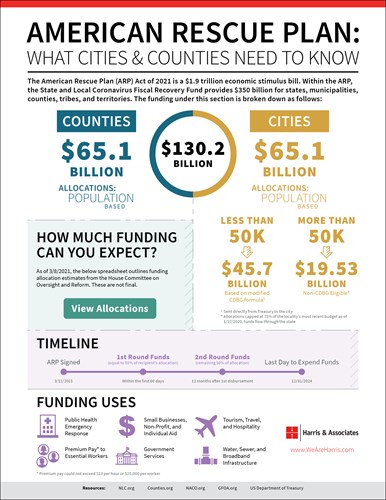 Authors
Ehab Gerges, PE
Marianne Fargas, PMP

Categories
Infographic

American Jobs Plan