Blogpost
Smarter Teams Get Better Results
Inside Harris' Newest Learning Initiative
1.5 minute read
January 11, 2021
This year reminded all of us just how quickly things can change. Municipalities everywhere scrambled to deal with a host of new regulatory, technological, logistical, and societal challenges.
At Harris & Associates, we're committed to staying ahead of changes and trends so we can provide our clients with the most effective solutions. In July 2020, we doubled down on this commitment by launching PMCM SMART Talks.
Each week, program management and construction management (PMCM) field staff from all Harris locations meet virtually to explore new techniques and technologies, share best practices, and anticipate what's coming next.  
This SMART Talks program derives its name from its five overall objectives:
Share experiences within and between our different business lines and geographies
Motivate learning to help staff expand their knowledge base and advance along their career paths
Accelerate skill development around the latest PMCM techniques and technologies
Improve Results by adopting PMCM best practices
Team up for a collaborative learning environment
Discussion topics typically focus on a technical discipline, innovative technology, industry best practices, or lessons learned from leaders of completed projects.
To date, we have explored pavement management technology, scheduling and estimating best practices, affordable housing, net zero master planning, and future predictions for construction, to name a few.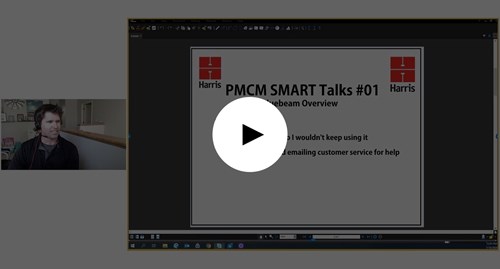 For an example of our PMCM SMART Talk program, check out the session we did in July on Bluebeam Collaboration Software. Please feel free to contact Harris & Associates for program and construction management expertise that helps you stay ahead of whatever comes next.