Blogpost
Padre Dam Maintenance and Operations Yard Improvements Project: Project Complexities No Match for Planning and Teamwork
4.2 minute read
May 26, 2016
I expect the unexpected.
Certain projects, though, push uncertainty to the max. Case in point: the maintenance and operations yard improvements for the Padre Dam Municipal Water District, which became more challenging by the day.
As construction manager on the job, I had to ensure that everyone on the team pulled in the same direction no matter what happened—that's the only way we succeeded. I used every tool in my kit, and then borrowed some others.

Issues on every side
New construction around the Padre Dam wastewater treatment plant was inherently complex. It required extensive underground work on a site with a high water table in a flood plain. And our work couldn't disrupt the plant's critical 24/7 operations.
The $8.3 million project involved the demolition of existing facilities, along with the excavation and grading for the future operations yard, including environmental remediation and removal of 4,500 cubic yards of impacted soils. Our team was responsible for managing extensive underground electrical, communications and wet utility work—relocating, upgrading and servicing new and future facilities. We also needed to build a 25,000-square foot pre-manufactured metal mechanics garage and material warehouse to support Padre Dam's infrastructure and utility maintenance programs.
As if the inherent complexities weren't enough, there was a dearth of reliable records from the site's 30 years as a sludge pit, which created looming unknowns, like the locations of contaminated soil that we had to remove, as well as unmarked underground utilities.
Finding answers in partnership
Extensive pre-planning and complete collaboration among all parties were essential. As soon as Harris was hired, we began fostering a team spirit.
We set the tone with a partnering session over lunch, where all stakeholders were invited. During this session, we:
Clearly defined all roles and responsibilities
Set up a method for conflict resolution
Got buy-in on a commitment to transparency, to allow for a free flow of information and ideas
Even though this was a design-bid-build project, it was vital to enhance collaboration by borrowing best practices from the design-build method: such as the early adoption of a project partnering agreement by the key stakeholders and the tracking of change orders on an add/deduct list. I promised that each change order would be resolved within 30 days, creating a level of trust with the contractor that proved critical to avoiding delays.
We also encouraged good ideas from the contractor and subcontractors to capitalize on their expertise and field experience. This led to $95,000 of savings through value engineering, which we returned to the budget to offset other costs.
Soil solutions
All of the stakeholders discussed concerns for potential cost overruns due to unforeseen conditions and site access. We quickly agreed that the likeliest source of problems would be geotechnical and environmental issues with existing soils. This assessment proved accurate.
With subgrade conditions unknown, geotechnical experts at Leighton Consulting conducted a sub-grade boring survey and gave us environmental test results and boring logs. This survey was an invaluable reference as we removed contaminated soils. During operations, onsite monitoring protected both the workers and the public from any potential hazards.
The high groundwater, riverbed and floodplain conditions added to our soil issues. Extensive pumping, de-watering and soils remediation were essential. With a full-time onsite geotechnical inspector advising us about problem areas, we removed bad, saturated soil and used geo-grid mat reinforcement before re-compaction with engineered fill.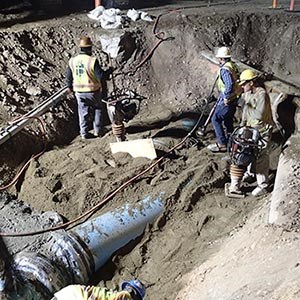 Every kind of pipe
We marveled at the variety of underground utilities—some known, some unforeseen. These included an active 24-inch force main, recycled water, natural gas, fiber optic and telecom, with materials dating all the way back to cardboard and tar pipe used in the 1950s.
Extensive "potholing" was the only way to verify the location of these utilities and proposed points of connection. The Padre Dam staff also joined us in reviewing the as-built drawings, which helped prevent utility strikes.
Still, we did have one strike. The elevation on one drawing was inaccurate and the contractor fractured a live, pressurized 16-inch sewer line. Here's where pre-planning made all the difference: the contractor had the correct size pump parts ready to go, a bypass trench to an available manhole, vacuum trucks and auxiliary pumps. Instead of a major disaster, the team pitched in, followed the plan and quickly resolved the problem.
Ideal results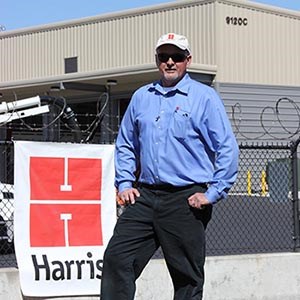 Each team member acted as a true partner every day for a year. That's why, despite setbacks due to weather, we completed the project on time and on budget, with no injuries.
This was the final phase for Padre Dam Municipal Water District's Customer Service and Operations Yard Campus Program, so now it has the up-to-date facilities it needs and is well-positioned for the future. Teamwork wins again.
I'm always interested in learning how other construction managers handle complex projects. What's in your toolkit?