3.2 minute read
November 17, 2015
Sustainability is the capacity to endure; it is how biological systems remain diverse and productive indefinitely. It is a global issue that crosses borders, politics, race, social status, religion and all other groupings. Sustainability is an issue for both national and local governments. In fact, The National Environmental Policy Act of 1969 committed the United States to sustainability, declaring it a national policy "to create and maintain conditions under which humans and nature can exist in productive harmony, that permit fulfilling the social, economic and other requirements of present and future generations." 
While it is based on a very simple principle: "the ability to sustain" or "the capacity to endure," understanding what it means to today's industries and businesses is complex and ever-changing. Even more difficult, is the practice of becoming more sustainable: it is one of today's biggest challenges, as it requires massive social, political, technological, cultural and behavioral shift.  
Harris & Associates views sustainability from three dimensions—social, environmental and economic. In making business decisions, we try to find the right balance among these dimensions and achieve the following outcomes:
Social Dimension
Design and construct projects that improve communities and people's lives.
Support the communities in which we live and work.
Maintain quality work environments.
Source materials and services responsibly.
Environmental Dimension
Use resources wisely.
Comply with laws.
Minimize our facilities' impact by operating safely, responsibly and efficiently.
Reduce the adverse of infrastructure projects through better design and construction management.
Economic Dimension
Be profitable.
Manage the costs to clients who use our services.
Provide services that help our clients achieve their project goals.
Support our communities by buying local goods and services, paying taxes and participating in local activities.
The intersection of these dimensions is where sustainability is found.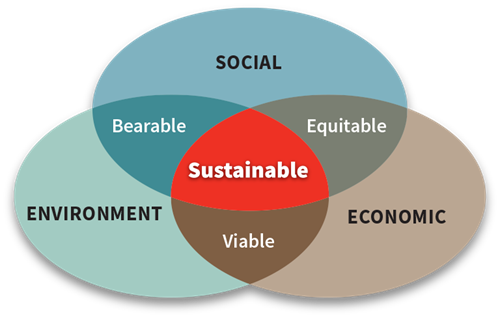 Imagine communities where infrastructure investments are made for low initial cost, taking into consideration long-term viability. Imagine projects with minimal negative impact on the environment, while at the same time having the potential to save money in the future. Imagine a place where the quality of life, nature, climate and resource allocation are all considered an integral part of design and construction public process. Harris is nurturing such communities.
Sustainability isn't new to Harris, as we've embraced the concept of reduce, reuse and recycle for some time. Our offices use a variety of advanced energy management techniques to reduce our electrical consumption, low-flow devices to reduce water usage and have many initiatives to cut our paper consumption. We extend the life of our technology assets far beyond industry standards by reusing and re-purposing them as they age. We consider the environment when making purchasing decisions. Over the years, we've had the opportunity to incorporate sustainability into both our design and construction management practices, and have many examples of where projects have significantly improved their communities through sustainable development approaches.  
But we can do more. During our recent strategic planning sessions, sustainability was a theme that was woven into many of our upcoming initiatives.
This post kicks off a series of Driven to Discover posts exploring sustainable communities and how we can do more as a business and as an industry. Our goal is to share solutions and prepare a strategy for the future; to examine research, trends, certifications, best practices, and the role of technology across a wide spectrum of organizations, communities and projects. We plan to build environmental accountability and leadership into our core processes and challenge others to do the same.
What is your organization doing to promote sustainability? What improvements do you think we could take on as an industry in this area? I'd love to hear your thoughts on how we can do more, together.
Authors