Blogpost
Getting Started: Regional Infrastructure Recovery for Smaller California Water Utilities
4.7 minute read
February 15, 2022
In December 2021, the U.S. Environmental Protection Agency (EPA) announced plans to provide over $600 million in funding for 2022 to help water infrastructure in California recover from years of under-investment, increasing pressures from drought and contamination, and increasing cost burden on families struggling to make ends meet, with more funding planned over the next five years. This financial boom presents a historic opportunity to address longstanding problems along with issues of water quality, water equity, protecting natural resources, and public health.
Larger cities and agencies are lining up to get their share of EPA dollars, but the need for assistance is far more acute for smaller agencies and resource-strapped communities. How can they make their project more competitive?
Three words: Regional infrastructure recovery.
An innovative approach growing in popularity, regional infrastructure recovery means smaller water utilities with similar projects collaborate and combine their efforts into one (or more) regional programs. This greatly increases competitiveness for funds and provides capacity to manage them.
Is regional collaboration the right move for your agency? Here, we explore three key questions to consider:
What are the benefits of working collaboratively?
By teaming up, neighboring small water entities can address common problems and pursue projects with broader regional benefits—an approach that boosts management and cost efficiencies. Acting collectively allows underserved communities to leverage their buying power and get more from federal dollars.
Among the best examples: California's Integrated Regional Water Management (IRWM) program funds water resource projects proposed by stakeholders who band together at the regional level as opposed to individual municipalities. This consensus-based program flows across jurisdictional, political, and watershed boundaries and integrates multiple agencies, stakeholders, and individuals. At present, more than 40 different regional groups participate in this program.
The Gateway Water Management Authority is another stellar case of successful collaboration. Multiple demographically similar entities in Southeastern Los Angeles have joined together to work on common issues around water quality, water supply, and storm runoff. The cities and agencies comprising the authority serve more than 2 million people. Combining the needs of individual cities into a single program is providing greater leverage as they pursue funding for PFAS treatment and well rehabilitation. Meanwhile, they also gain the assistance of experts they normally wouldn't be able to access (or afford) on their own.
How do you start building a regional partnership?
Like any kind of endeavor, a regional partnership needs a champion—someone with the vision to see the advantages for their agency and others and to set the wheels in motion. A supporting cast of advocates from different entities helps as well.
As early as possible, agency and city leaders should assess their collective needs and identify possible grant opportunities through a strategic planning process. All participants must collaborate to determine which priorities would produce the greatest measurable impact on their region. Not every agency will have the same problems, so decisions may not be easily reached.
Successful collaborations across water agencies require a foundation of trust. While it takes time to develop trust through consistent and predictable behaviors, partners can operationalize trust more quickly by tracking, measuring and setting goals in a collaborative manner.
Open and effective communications are also essential—including a transparent flow of information among regional partners. The right facilitator/s can help ensure that partners are working towards common goals with certainty and predictability.
How can you set your partnership up for success?
One of the biggest decisions you'll make from the start is how many partners to include. You may want to err on the side of more with the understanding that some partners may drop out and others may be asked to leave.
After settling on numbers, develop clarity around roles. Participants need to know who is responsible for each aspect of the partnership and any given project. Work together to create an action plan, complete with timelines, that everyone in the partnership can embrace.
In addition to your action plan, develop a plan for constructively managing potential conflict within your group. Regional collaborations address complex challenges, and a certain amount of conflict is inevitable. Ensuring that everyone is on the same page about the risk level they are assuming and the amount of money involved in the project can also lead to more harmonious group dynamics.
Finally, decide what if any formalized structure you'd like to apply to your group. This can range from a Memorandum of Understanding to a more comprehensive Joint Powers Authority complete with a board and bylaws. While your situation will dictate the best option for your group, the Joint Powers Authority has the advantage of creating transparency requirements that lead to greater accountability.
Add an expert to your team
It's important to have the right level of support when developing grant strategies in this new funding world—especially when working within an unfamiliar partnership. Bringing in a qualified facilitator and consultant can help your group identify a good regional approach by assessing the kinds of projects that would work best in collaboration, identifying and securing state and federal funding, and keeping agency leaders aligned around regional goals.
With millions of dollars in funding available in California for water projects, regional collaboration is emerging as a viable option to consider, especially for smaller agencies. And by partnering and working collaboratively, these agencies can share resources and pursue larger and broader opportunities, providing positive impacts to the communities they serve.
To learn more about the value and potential of regional collaborations for your water infrastructure and recovery projects, reach out to Harris' Senior Director of Water Consulting, Ann Hajnosz, PE.
Authors
Source
Harris & Associates
Markets
Water
Drinking Water
Stormwater
Wastewater
Water Reuse

Services
Water Consulting
Asset Management

Categories
Regional Collaboration
Water Infrastructure

Water Online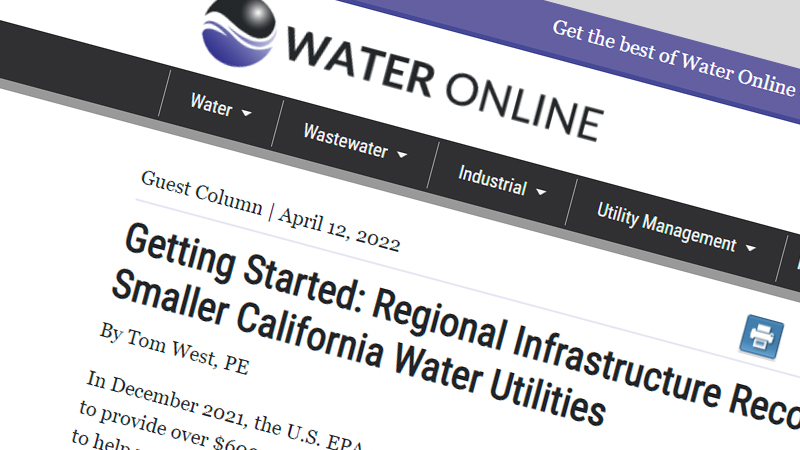 This blog was also published on Water Online, check out their guest column.