3.2 minute read
July 27, 2015
We are facing the biggest changes and challenges our industry and perhaps society have ever seen: aging infrastructure, climate change, sustainability and financing. The engineers of tomorrow certainly have their work cut out for them.
It's clear to me that we're going to need a new kind of engineer to deal with what's coming; the stereotypical one of the past just doesn't have everything in the pocket protector to address these issues.
And I'm not the only one who feels this way. Our industry is buzzing about this topic, and I was thrilled when I recently came across Greg Bell's perspective in the ASCE Roundup blog on Developing the Next Generation of Engineers. After reading it, I felt compelled to share my own thoughts.
New skills will make all the difference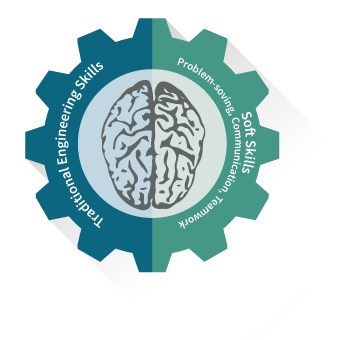 I agree with Bell that a new "breed of engineers" is required, one that's versed in soft skills as well as the technical. Specifically, I think the new generation will need an extra emphasis on:
Problem-solving
Communication
Teamwork
Schools have not stressed these non-technical skills in the past, despite their importance. Speaking of, my strongest disagreement with Bell regards education.
While he argues for making graduate degrees synonymous with accredited professional licenses and certifications (as in medicine and law), I believe engineers can attain lifelong learning through other avenues at lower costs. I have worked with many non-degreed engineering professionals who are just as capable if not more capable than degreed ones. That said, I still believe licenses and continuing education units should remain a part of every engineer's entire career—provided they include the core soft skills mentioned above.
It's time to influence policy
Still, these skills alone won't be enough to tackle what lies ahead. Tomorrow's engineers will need to move into political and policy areas as they never have before. This is not a recommendation—it is a necessity to make the changes and solve the problems facing our society. As an added bonus, it can be incredibly satisfying from a career standpoint, as I found out in helping to create flood policy over the past 10 years.
I disagree with Bell and others who worry for the vitality of our profession. The needs are too great for engineers to disappear; we will always need water, transportation, sewers, etc. What is changing is the need for a more global, collaborative and holistic view of our challenges.
We are beginning to see this view adopted on a small scale, for example, with the move to integrated regional water management in California and the view of regulations from a watershed perspective rather than a city-by-city approach. We must nurture this approach until it's second nature nationwide.
New engineers will thrive—if we help them
I decided to become an engineer because I loved solving problems. I was drawn to the thrill and excitement that comes from figuring out a difficult puzzle—a feeling I'm sure many of you can understand.
I was fortunate to study under some great mentors, and I fed off their enthusiasm. I relied on their wisdom to guide my decision-making. Today, unfortunately, I don't think we do as well as we could to transfer our knowledge or our excitement. We mustn't let automation dull the exhilaration that comes from finding the perfect solutions.
My fellow engineers, mentors, coaches, let's focus on preparing our next generation to succeed. Let's ignite the passion for solving these huge challenges coming their way and help ensure they have the right mix of skills to solve them.
I'm interested in your opinions about these issues. Have I struck a nerve? Do you have a great approach to training the next generation? Please let me know!
Services