Blogpost
Finding Solutions to the Funding Shortage in Transportation Infrastructure
2.9 minute read
May 03, 2016
It's safe to assume that local government agencies are struggling with a fundamental question: how do we do more with less? When it comes to transportation infrastructure, agencies have to address their aging roads, bridges and needed upgrades to public transit in order to keep their constituents safe and make transportation accessible to everyone. But to address all of this, agencies are lacking two important elements: funding and proper policies.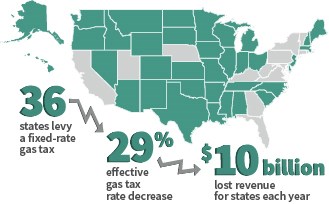 The Department of Transportation's Highway Trust Fund is on the fast track to insolvency. The gas tax has not been increased since 1993, but infrastructure expenses have outpaced receipts from the fuel levy by as much as $15B per year. The adverse effect of inflation on the current gas tax value and reduced gas consumption in the age of fuel efficiency are two key reasons that local governments are facing the most critical challenge in our history.
At the state level, available funding sources such as sales taxes on fuel and suppliers, motor vehicle and rental car sales tax, vehicle registration/license/title fees, tolls, vehicle weight fees, general funds, and interest income provide some help to local agencies. But it is the state gas sales tax that is yet the most important source of transportation funding for local and state governments. However, 36 states levy a fixed-rate tax (no indexing), so effective gas tax rates have plummeted by 29%, or 9.5 cents per gallon since they were last increased. This translates to $10B a year of lost revenue for states each year. But there might be an alternative to the gas tax that some states are exploring—a VMT (vehicle miles traveled) fee. Instead of using the gas tax to fund transportation infrastructure, a VMT fee charges motorists based on their road usage measured in mileage. VMT could, in the long term, phase out the gas tax mechanism.
But what can local governments do about this funding dilemma in the short term? Local agencies need to think outside of the box. Rather than looking for new ways to fund transportation projects, agencies should spend their time looking at ways to maximize existing funding. This is a different way of thinking—it's an "outside of the box" approach—and for some agencies, can be a cultural mind-shift.
What are some of the ways agencies can maximize existing funding? Here are a couple of ideas:
Implement a phasing out plan of commonly practiced "borrow and spend" and change internal policies to promote "tax and spend" business practices.
Maximize spending money on maintenance, preservation, and restoration of our existing transportation infrastructure – not on building new roads that use most of the insufficient revenue for a structure that we can't even afford to keep up long term.
Include maintenance costs in budget planning phase.
Create and implement asset management processes and procedures.
Whether it's a new source of funding at the state level or a different way of thinking at the local level—the road to funding transportation infrastructure is sure to be bumpy. Agencies will have to buckle up for the ride as passengers or take the driver's seat and navigate through the bumps in road.
If you'd like to read more about my thoughts on transportation funding, or lack thereof, download my article, Transportation Revenue Shortage, that appeared in the Fall 2014 edition of the Washington State Public Works Magazine. Let me know what you think—I'd be happy to hear your thoughts on this topic.
Markets
Categories
Funding